Paradores-Tours – a tour through the mountains of Andalusia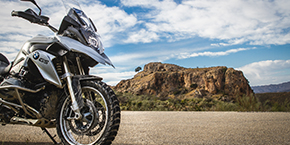 Arrival is possible on Fridays, Wednesdays and Sundays. For groups from 10 to 12 people other dates and individual routes can be booked. The tour bike can be freely chosen. For this tour also there is the usual full service programme with flight, accommodation, bikes, petrol, full board – lunch in tapas bars, dinner at the exclusive Parador hotel – or in a event venue near the hotel, assistance vehicle with replacement bike und luggage, event shirt and guides.
Explanation
Parador is in Spain the normal abbreviated designation for Parador Naciónal and stands for comfortable and styled 4 to 5 star hotels often in historical buildings. The Paradores have been established since 1982 with the support of the Spanish royal family in castles, palaces, strongholds, cloister or other historical buildings to promote tourism. Beside then there are also modern builgings, most at the seaside. The number of Paradores is always increasing and come to about 100 at this time. Most of the Paradores hotels are located in history full places such as Ávila, Cáceres, Córdoba, Cuenca, Granada, León, Mérida, Ronda, Salamanca, Segovia, Santiago de Compostela and Toledo or in outstanding landscapes and offer often a beautiful and remarkable view.
Driving security
The possession of a valid driving licence A is required for the participation. Please do not forget to bring your driving licence with you! Before the beginning of the tour all participants receive an introduction to the route, behaviours and particularities by the responsible tour guide. He is at the same time your contact for all matters during the tour. For every tour an assistance vehicle with a doctor will be appointed, in which there will also be a replacement bike. All participants get before the tour a general plan / a route description and a list with all important phone numbers.
---