Basic training for the race track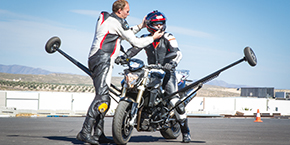 Get away from the winter? Try the first meters on the track? Develop a clean line and on top of it perfect the braking? Train hanging-off and knee-down? Every "yes" to these questions leads you to the new offer at the BMW Motorrad Test-Camp: to the curve school!
Because the curve school on the brand-new racetrack Autodromo Andalucia's handling track next to the Circuito de Almeria is outstandingly suited for all those things. There are more than enough curves in different radius; the track is all in all a technical challenge.
On different parts of it, the vision, line, seat position and hanging-off will be trained. The right feeling for the lean angle combined with the knowledge of the possibilities of the tires and bike provides a huge asset in the safety and create reserve for the handling of hard traffic situations. This awareness is at least as important for sport riding on the track.
Training points
Line and alternative
Seat position and moving on the bike
Viewing direction
Group sessions on the track coached by instructors
Suited for
The curve school is suitable for sport ambitioned riders, as well as passionate road drivers, who want to ride on a track for the first time. This training is not suitable for absolute beginners, pilots who do not drive often (see our special "comeback"- programme) and racers.