Experience grand road tours through the mountains of Andalusia or the "GS feeling" offside the modern asphalted roads? You have the choice!
Perfect for the BMW Motorrad Test-Camp the region of Almeria offers everything what a spectacular roar tour needs: fantastic asphalted twisting roads lead directly from the Mediterranean sea to the 2 000 m high tops of the mountain chains with stops at breath taking view points, long curved roads along the Costa de Almeria, that loose themselves in the cloudless blue sky, sleeping fishermen villages and a lot more. And all this with little traffic. Moreover we offer you the possibility for the first time to test the potential of the series GS models and tires on not asphalted roads. And this is how one comes to remote places far from tourist attractions!
Enjoying the landscape and test the newest BMW Motorrad models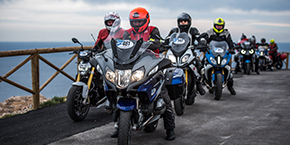 The BMW Motorrad Test-Camp Almeria road tours are the possibility to enjoy life the wind on your face and to leave behind the daily life problems! Thanks to an extensive organisation one must think of nothing else but the pleasure of riding because, from the tour planning to the prepared coffee breaks through the supervision by the guides, all is in the best way prepared. We drive in groups which speed is oriented to your indication in the booking. This organisation allows you to subject your secret favourite 2017 BMW Motorrad models to an extensive trial.
You can choose between:
cosy ride with numerous stops by beautiful landscapes views
proportional sightseeing and relaxed test ride
dynamic road rides with focus on extensive bike tests
Adventure – Riding on not asphalted roads in the hinterland
The tour length and the average speed are arranged according to. As a principal the speed of the slowest rider is the group speed. During the breaks, one can change group, should the level be too high or too low. Talk to your guide about it, he will organise everything. Of course the bikes can and should be exchanged between group members during the day.
Driving security
The possession of a valid driving licence A is required for the participation. Please do not forget to bring your driving licence with you! Before the beginning of the tour all participants receive an introduction to the route, behaviours and particularities by the responsible tour guide. He is at the same time your contact for all matters during the tour. For every tour an assistance vehicle with a doctor will be appointed, in which there will also be a replacement bike. All participants get before the tour a general plan / a route description and a list with all important phone numbers.
---